HP Visualize J6000 - SERIAL NUMBER: SG11020181 - Make Offer
Overview Project names - uname: J6000: Duet W+ - 9000/785
These small workstations were aimed at the graphics workstations market, equipped with the new 64-bit PA-8600 and PA-8700, both featuring large on-chip L1 caches. The architecture was a major change from those of its predecessors. New I/O devices were integrated, the LASI I/O chip was dumped together with the old GSC bus. All these devices now sit on several PCI buses, human I/O devices are connected to USB ports. The case can be used on the desktop or fitted in a 19″ rack (2U).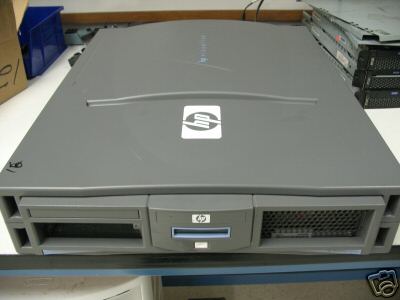 Internals
CPU
J6000: 1-2 PA-8600 552MHz with 512/1024KB on-chip I/D L1 cache
Chipset
The system is centered around the HP Astro chipset:
HP Astro chipset
Astro memory and I/O controller connects to the two processors via the Runway processor bus (2.0GB/s), the memory bus (2.0GB/s) and eight I/O channels ("ropes" — aggregate 2.0GB/s) and contains both memory, I/O and cache controllers
Four Elroy PCI bridges connect the PCI slots and I/O devices on the onboard PCI bus to the Astro with an aggregate bandwidth of 2.0GB/s on seven I/O channels (one of the eight channels of the Astro controller is unused)
PCI 64/66 I/O slot on two channels — 0.5GB/s
PCI 64/66 I/O slot on two channels — 0.5GB/s
PCI 64/66 I/O slot on two channels — 0.5GB/s
Onboard I/O devices (Fast Ethernet, SCSI, audio, IDE/USB etc.) on one channel — 250MB/s
National 87560 ("Super I/O"), integrates USB, RS232, parallel, floppy and IDE
National 87415 IDE controller
National USB controller
Analog Devices AD1889 sound chip
DEC 21142/43 Fast Ethernet controller (Tulip)
Symbios Logic 53C896 Ultra2-Wide SCSI-3 controller
Buses
Runway CPU bus with 2.0GB/s
Memory bus, about 2.0GB/s
I/O bandwidth of around 1.75GB/s
Three PCI-64/66 buses for expansion slots
PCI-64/33 bus for onboard I/O devices
SCSI-3 Ultra2-Wide LVD buses main storage I/O
IDE bus for CD/DVD removable media
Memory
278-pin 120MHz ECC SDRAM DIMMs
16 slots
Takes 512MB/1GB DIMMs
1GB (2×512) minimum, 16GB maximum (16×1G)
Expansion
Three PCI 64-bit/66MHz, 3.3V slots
Drives
One tray for two 3.5″ Ultra2-Wide LVD SCSI hard drives with 80-pin SCA connector
One tray for a slim-line ATAPI CD-ROM
External Connectors
68-pin HD SCSI-3 Ultra2-Wide LVD connector (SE)
Two DB9 male RS232C serial
DB25 female parallel
TP/RJ45 10/100Mbit Ethernet
Two USB ports for keyboard & mouse
Four phone jacks (microphone, headphones, line-in and line-out)
ROM update

There is a firmware update available for the PA-8600-based J6000, which contains the latest version (5.0).
PF_CBCJ0050.txt has details about the contents and installation of the patch.
PF_CBCJ0050 contains the patch.
A different firmware update is provided for the PA-8700-based J67x0 systems (version 2.0):
PF_CCJ70020.txt has details about the contents and installation of the patch.
PF_CCJ70020 contains the patch.

Operating Systems
HP-UX:
J6000: HP-UX 10.20: runs, need ACE 9907
11.00 and 11i v1: run nicely. You need at least 11.0 ACE 9911 or 11i.
Linux: works.
OpenBSD (32-bit): works.

-------------------------------------------------------
DELL PRECISION 670 WORKSTATION MOTHERBOARD AND POWER SUPPLY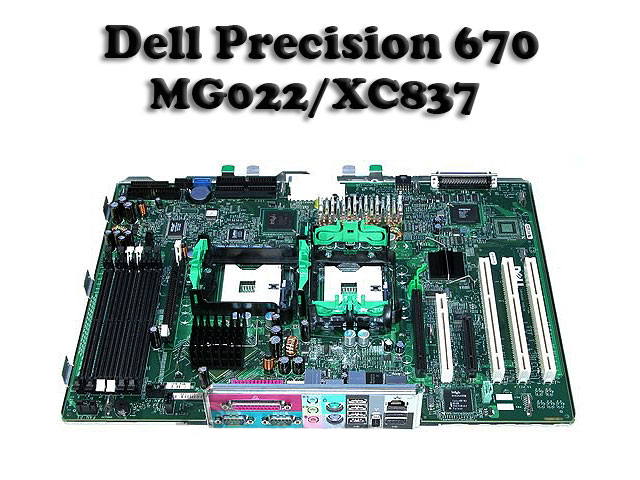 Here are the specifications:
Up to two 64-bit Intel® Xeon® dual-core or single-core processors with 800MHz front side bus and 2MB L2 cache per core; All Intel® Xeon® processors support 64-bit computing with Intel Extended Memory 64 Technology
Intel E7525 chipset
Up to 16GB1 dual-channel2 DDR2 400MHz ECC registered memory; Six DIMM slots BIOS 4MB flash memory for system BIOS; SMBIOS 2.3.1 support
Support for ISV-certified PCI Express graphics cards up to 150 watts and with up to 512MB graphics memory including: ATI™ FireGL™ V3100; graphic card supports dual monitor configurations
Serial ATA/150
Integrated Serial ATA/150 with RAID 0, 1; Integrated Ultra 320 SCSI PCI controller with RAID 0, 1; Optional 6-port SATA controller with RAID 0,1;
Eight USB 2.0: two on front panel, six on back panel; Two IEEE 1394a; Two serial; One parallel; Two PS/2; One RJ-45; Line-in, line-out, and microphone connectors on back panel; Speaker, headphone and microphone connectors on front panel
Three internal 3.5" x 1" disk drive bays; Three external 5.25" drive bays; One external 3.5" bay; One PCI Express x16 graphics slot; One PCIe x4 slot; One PCI slot (32-bit 5V); three PCI-X slots (62-bit/100MHz 3.3V); 650 watts Power Factor Correcting (PFC) power supply
Graphics Controller: Graphics Processor / Vendor: NVIDIA Quadro NVS 280 Installed Size: 64.0 MB
----------------------------------------------------------
Tyan S2665-ANF i7505 ATX E7505 XEON Motherboard - Make Offer
Tyan S2665-ANF i7505 ATX E7505 XEON Motherboard
Introduction
Using Intel®'s E7505 chipset, the Thunder i7505 platform is the ultimate solution for workstation-class development needs. With support for two Intel® Xeon™ processors, Hyper-Threading, Dolby Digital 5.1 standard 6-channel audio with additional SPDIF port for near perfect audio transfer quality, a built-in Gigabit Ethernet port for powerful networking features, integrated USB 2.0 to support all of the latest in USB video and input technology, all within an SSI form factor - the Thunder i7505 provides both performance and flexibility for nearly any workstation development application.
Specifications
Processor
• Dual mPGA604 ZIF sockets
• Supports up to two Intel Xeon processors with 512KB of integrated L2 cache
• Onboard VRM (VRM 9.1 spec)
• Front-Side Bus support for 533/400MHz

Chipset
• Intel® E7505 chipset
• MCH + ICH4 + P64H2 + FWH
• Intel® P64H2 supports two PCI(-X) buses
• Winbond™ W83627HF Super I/O chip
• Analog Devices ADM1027 system monitoring chip

Memory
• Four 184-pin 2.5V DDR DIMM sockets
• Supports up to 4GB of unbuffered DDR266/200
• Dual channel memory bus
• Supports ECC/non-ECC memory modules

Expansion Slots
• Three independent PCI(-X) buses
• One 8X/4X AGP Pro50 slot (1.5V)
• One 64-bit 133/100/66MHz (3.3V) PCI-X slot
• Two 64-bit 100/66MHz (3.3V) PCI-X slots
• Two 32-bit 33MHz (5V) PCI slots
• Total of six usable slots

Integrated I/O
• One floppy connector supports single drive
• One 9-pin serial connector
• One 25-pin ECP/EPP/SPP parallel header
• Six USB 2.0 ports (four rear, two via header)
• PS/2 keyboard and mouse connectors
• One IEEE1394 (FireWire) port

Integrated PCI IDE
• Provides two PCI bus master channels for
up to four Enhanced IDE (EIDE) devices • Support for UDMA-100/66/33 IDE drives
and ATAPI-compliant devices
Integrated PCI 1394a Controller
• TI TSB43AB22 PCI 1394A controller
• Two 1394a ports (one external, one internal, opt.)

Integrated SCSI (option)
• Adaptec® AIC-7902 controller
• Dual-channel Ultra320 SCSI
• Adaptec® Zero-channel RAID and Intel RADIOS ready

System Management
• Total of seven 3-pin fan headers
• Six fan headers with tachometer monitoring
• One 3-pin chassis intrusion header
• Temperature, voltage, and fan monitoring

Integrated LAN Controller
• Intel® 82540EM Gigabit Ethernet Controller
• One RJ-45 LAN connector with LEDs

Integrated Audio
• Intel® ICH4 AC'97 compliant audio link
• ADI 1981A CODEC
• Line-in, Line-out, Mic-in rear jacks - one RCA SPDIF connector
• One 4-pin CD-ROM audio header (ATAPI)
• One 4-pin Auxiliary audio header (ATAPI)

BIOS
• Phoenix™ BIOS 6.0 on 4/8Mbit Flash ROM
• LAN remote boot (PXE) and SMBIOS v2.3
• BIOS Boot Specification v1.1 (BBS) support
• Quick Boot and Multiple Boot support
• ACPI v2.0 (S1, S4, and S5) support

Form Factor
• SSI EEB v3.0 Footprint - fits in many E-ATX and SSI-compliant tower
• chassis (12"x13", 304.8x330.2mm)
• EPS12V (with WS 6-pin) power connectors
• 1394A FireWire (two) connector
• RJ-45LAN (one) connector with LEDs
• Stacked parallel (one), serial (one) connector
• Stacked USB (four) connectors
• Stacked PS/2 keyboard and mouse connectors
• Audio Line-in, Line-out, Mic-in jacks
• One RCA SPDIF connector